Snapshots of Troy Donahue on TV Boomers Fifties Teen Idol Magazine © Boomers Pinups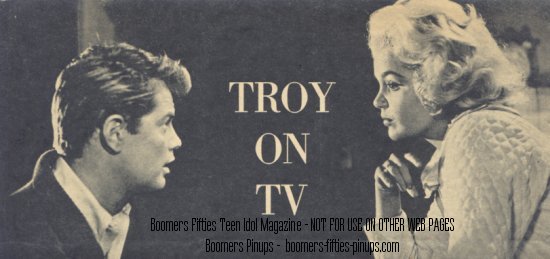 1950's 1960's magazine

Troy on TV westerns and other TV Shows.
When Troy was asked what his favorite TV show is, he answered: "All the Warner Brothers shows!"
And no wonder, because they have been responsible for a large part of Troy's fast rise in popularity. Troy receives more mail than anyone else on the Warner Brothers lot.
Troy has appeared on 77 Sunset Strip, Hawaiian Eye, Maverick, Bronco, Colt .45 and Lawman. All this plus Troy's feature films for Warners, too!
Work in television has brought Troy much fame and many good friends, like Tuesday Weld, above, on 77 Sunset Strip.
Pictured for you here are photos from several of Troy's TV appearances. All of them were broadcast over ABC-TV.





Roger Smith of 77 Sunset Strip chats with
Troy about his script


On Bronco Troy appeared with Ty Hardin (seated in chair).



Troy and John Russell on Lawman show.

You can use your BACK button to return
---
---
More Boomers Pinups web pages
Sandra Dee Tuesday Weld Connie Francis Annette Funicello James Darren Paul Anka Sonny and Cher Elvis Presley Bobby Vee Bobby Rydell Frankie Avalon Troy Donahue Herman's Hermits Paul Petersen Fifties TV 1950's Movie Stars Jeff Chandler Tab Hunter Rock Hudson Marilyn Monroe Rita Hayworth Elizabeth Taylor Esther Williams Doris Day Debbie Reynolds Claudette Colbert Barbara Stanwyck Fifties Magazine 1950's 1960's Photos Kookie Fashion 50s Actress Fashions 1950s Grease 1950's Mens Fashions Fifties Teenagers Dancing Fifties Teen Idols video Top Movie Classics 1950's History
Link to us - BANNERS
Restored work products by Boomers Pinups - NOT FOR USE ON OTHER WEB PAGES
Troy Donahue pictures are from Carolyn's saved 1950s teeny bopper scrapbooks.
Copyright © Carolyn Passalaqua ALL RIGHTS RESERVED
boomers-fifties-pinups.com