When I returned to American Bandstand the following Monday, I was not nearly so frightened or shy as I had been before. I even had the nerve to walk over and ask my idol, Pat Molittieri, to dance.

Pat smiled warmly and said yes. It was a moment I had often dreamed of, but felt would never really come to pass. Pat was a great dancer. Before long, she became one of my favorite dance partners.

I had a fine and swinging summer with my new pals, and by fall I had become frienly with Arlene Sullivan, Justine and many others. I just can't tell you what great kids these American Bandstanders are. I only wish each and everyone of you could have shared all my delightful experiences with me.

Well fall came and I started back to school. I was depressed by the fact that I could no longer spend my afternoons dancing, but I loved my school and studies - and could spend part of the afternoon watching the American Bandstand show from home - so it wasn't too bad.

Then when May rolled around it found yours truly back at Dick Clark's American Bandstand, WFIL-TV studios. The kids greeted me with open arms and I began to make new friends. These included Frani Giordano, Carolyn Scaldeferri, Betty Romantini, and the Jimenez sisters. Soon, these girls were my regular afternoon dancing partners. "Hey Mike," Betty said to me one day, "Why don't we enter the Fast Dance Contest? You know, just for laughs."

We did enter the fast dance contest, and it was for laughs. But we really loved every minute of it and felt extremely proud that we were among the finalists. Betty Romantini, incidentally is not only a truly witty and amusing girl, but she is also a good and sincere friend.

I have found that the American Bandstand-ers are all in all the nicest group of kids that I have ever gone around with.
They are happy and carefree, but they are also kind and considerate. They have helped me make my teen years sparkle with delight.


---
The American Bandstand show 1957-1965
American Bandstand was broadcasted nationally on August 5, 1957 with Dick Clark as the host. ABC WFIL-TV studios 46th and Market Philadelphia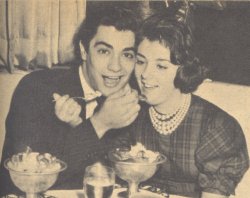 Tony Cosmo with Pat Molittieri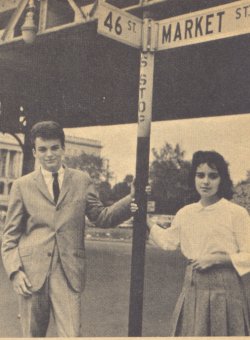 Mike and Arlene Sullivan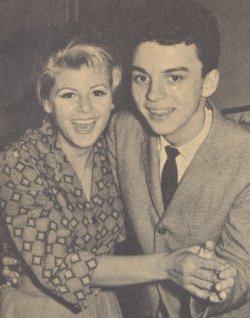 Frani Giordana and Mike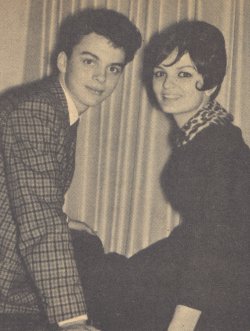 Mike with Carole Scaldeferri




Mike proudly points to an LP record jacket, Dance with Dick Clark. It's a pet possession.