Herman's Hermits, Peter Noone Q & A Boomers Fifties Teen Idol Magazine © Boomers Pinups

It's a little large for an ID card, but chances are Herman isn't going to be forgetting his name - he has so many of them. The fab four (fab 3 pictured here) behind Herman think that Herman is such a spectacular star. And all four Hermits think Herman Peter Noone is the greatest!
Herman feels the same way about them. Herman was once an unknown Noone in Manchester.
Below Herman Peter Noone gives us a short Q & A bio. Also below is a list of Herman's Hermits hit songs and their films.
Herman Q & A, Bio, Songs & Films.

Peter Noone of Herman's Hermits is asked questions and reveals his likes and dislikes and deep-down secrets!
What is your full name? Peter Blair Denis Bernard Noone. My friends call me Peter.
When and where were you born? I was born on November 5, 1947, in Manchester, England.
What is you height, weight and coloring? I am five feet nine inches tall and weight 126 pounds. I have dazzling eyes and medium dull hair.
What was your very first ambition? To be an actor.
How did you get interested in singing? I had a part in a TV series, Knight Errant, and was required to do some singing. My father then enrolled me in music and drama classes at the Manchester School of Music.
What is your ambition now? To be able to stay in a happy disposition all my life - and to stay in show business.
What kind of people do you like to be with? People with vivid imagination and people who think for themselves. Real individuals.
Briefly describe your dream girl. A girl who is a non-conformist, who doesn't follow the fads. Of course, I wouldn't mind if she was cute.
What is your secret longing? To feel that I am a real success and to know I make people happy through my work, songs.
How do you like to dress? Most of my shirts are three sizes to big. I like clothes in blue shades.
How do you like to see girls dressed? Casual, but neat - and not like carbon copies. Dressing to their personal taste, and not the taste of their friends or just because everyone is wearing a particular thing.
What do you like to do on a date? To break away from the crowd and take my date somewhere other than the usual places.
Do you believe in telling a girl you really like her as soon as you know it? Yes, I do.
Would you kiss a girl on a first date? Yes - and on the second - and on the third...
What do you plan to do with your money? Own a chain of launderettes across the country. For some reason, I find them fascinating.


-1960's Peter Noone interview





Herman's Hermits Films:
Pop Gear (1965): When The Boys Meet The Girls (1965); Hold On (1966): Mrs. Brown You've Got A Lovely Daughter (1968).
Herman's Hermits songs / Greatest Hits:
I'm into something good (1964 #13); Mrs. Brown, You've Got A Lovely Daughter (1965 #1); Can't You Hear My Heartbeat (1965 #2); I'm Henry The VIII, I Am (1965 #1); There's A Kind Of Hush (1967 #4).
More great songs by Herman's Hermits:
Silhouettes(1965 #5); What A Wonderful World (1965 #4); Just A Little Bit Better (1965 #7); A Must To Avoid (1965 #8); Listen People (1966 #3); This Door Swings Both Ways (1966 #12); No Milk Today (1966 #35); East West (1966 #27); Dandy (1966 #5); Museum(1967 #39); Don't Go Out Into The Rain (1967 #18); Leaning On The Lamp Post (1967 #9); I Can Take Or Leave Your Loving (1968 #22).


Peter Noone of Herman's Hermits



You can use your BACK button to return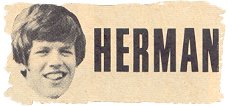 More Boomers Pinups web pages
Sandra Dee Tuesday Weld Connie Francis Annette Funicello James Darren Paul Anka Sonny and Cher Elvis Presley Bobby Vee Bobby Rydell Frankie Avalon Troy Donahue Herman's Hermits Paul Petersen Fifties TV 1950's Movie Stars Jeff Chandler Tab Hunter Rock Hudson Marilyn Monroe Rita Hayworth Elizabeth Taylor Esther Williams Doris Day Debbie Reynolds Claudette Colbert Barbara Stanwyck Fifties Magazine 1950's 1960's Photos Kookie Fashion 50s Actress Fashions 1950s Grease 1950's Mens Fashions Fifties Teenagers Dancing Fifties Teen Idols video Top Movie Classics 1950's History

Work products by Boomers Pinups - NOT FOR USE ON OTHER WEB PAGES
Pictures from Carolyn's saved 1950s teen scrapbooks.
Copyright © Carolyn Passalaqua ALL RIGHTS RESERVED
boomers-fifties-pinups.com