Frankie Avalon songs, bio, pictures, movies Boomers Pinups






Frankie Avalon






































Born:


Francis Avallone


Birthdate:


Sept. 18, 1939


Town of birth:


Philadelphia








© Boomers Pinups work product - not for use on other web pages
Teen idol, Frankie Avalon

1950's and 1960's: Frankie Avalon enjoys fabulous teen years. He turns out hot records.

His biggest hit song is "Venus" which hits #1 on the charts. His first movies are "Guns of the Timberland" and "The Alamo". In the sixties he stars with Annette Funicello in successful, teenage "beach" movies.




Early Bio:

Frankie Avalon is a young prodigy with the trumpet. In his preteen years he is a celeb on a local TV station, "TV TEEN Club." He becomes a member of the group Rocco & The Saints - Bobby Rydell is another member of the group.

Frankie Avalon is spotted by a Chancellor Records Scouting artist, and is signed to a contract. His first record, Cupid. Frankie Avalon's first charted success is with the song Dede Dinah which hits #7.



Frankie Avalon Songs / Records (1950's / 1960's) Early Hits:

1957:Cupid; 1958:Dede Dinah (#7) ; You Excite Me(#49); Ginger Bread (#9); What Little Girl(79); I'll Wait For You(#15); 1959:Venus(#1); Bobby Sox To Stockings(#8); A Boy Without A Girl(#10)Two Fools(#54);Just Ask Your Heart(#7); 1960:Why(#1); ALBUM: Swinging On A Rainbow(#9); Swinging On A Rainbow(#39); Don't Throw Away All Those Teardrops(#22); Where Are You(#32); Tuxedo Junction(#82); Don't Let Love Pass Me By(#85); Togetherness(#26); The Puppet Song(#56); 1961: A Perfect Love(#47); All Of Everything(#70); Who Else But You(#82); True, True Love(#90); ALBUM: A Whole Lot Of Frankie(#59); 1962:You Are Mine(#26); A Miracle(#75); 1976: Venus (remake - disco #46).

**1959: Venus tops the charts for five weeks, it's Frankie Avalon's first million dollar single.

**1960: Why hits #1, Frankie Avalon's second millon dollar song.

Frankie Avalon Early Movies:

Guns Of The Timberland (1959); The Alamo (1960); Voyage To The Bottom Of The Sea (1961); Sail A Crooked Ship (1961); Panic In Year Zero! (1962); The Castilian (1962); Operation Bikini (1963); Drums of Africa (1963); Beach Party (1963); Muscle Beach Party (1964); Bikini Beach (1964); Pajama Party (1964); Beach Blanket Bingo (1965); I'll Take Sweden (1965); Ski Party (1965); How To Stuff A Wild Bikini (1965); Seargant Dead Head (1965); Dr Goldfoot And The Bikini Machine (1965); Fireball 500 (1966): Thunder Alley (1967).

**Favorite Frankie Avalon beach movie: Beach Party (1963).

** Note: In 1978, 1987 Frankie Avalon stars in two very successful movies, Grease and Back To The Beach.
Click to hear music: Young Love
Buy Frankie Avalon songs
Choice CD pick

His big hits including Bobby Sox To Stockings....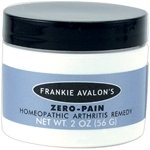 Frankie Avalon's Zero Pain Cream

Frankie Avalon's Zero-Pain is a Homeopathic Arthritis Remedy. Frankie Avalon presents his Zero Pain Cream for minor relief of pain due to arthritis, bursitis, sprains, strains, muscle aches and mild back pain.
---
---
Celebrity Indexes: Celebrity Link: Frankie Avalon Celebstuck Celebsitezone.us Topcelebritypages.com
---
Pictures and text are work products by Boomers Pinups - NOT FOR USE ON OTHER WEB PAGES
Picture from Carolyn's saved 1950s teen scrapbook
Copyright © Carolyn Passalaqua ALL RIGHTS RESERVED
boomers-fifties-pinups.com