Tab Hunter pictures, movies and bio Boomers Pinups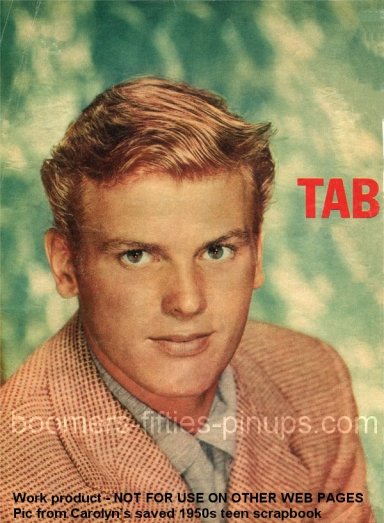 © Boomers Pinups work product - not for use on other web pages
Tab Hunter Biography / Bio:

Born Arthur Gelien in New York, July 11, 1931.
The Boy-next-door image, a teen idol in the 1950's.
He's 6' 1/2" tall; weights 170; hazel-eyed with light brown hair.
TV Series 1960: The Tab Hunter Show. Most famous movie: Damn Yankees (1958).
Tab Hunter Movies / Movie list:

Movies: The Lawless (1948); Saturday Island (1952); Gun Belt (1953); The Steel Lady (1953); Return to Treasure Island(1953); Track of the Cat (1954); Battle Cry (1955); The Sea Chase (1955); The Burning Hills (1956); The Girl He Left Behind (1957); Lafayette Escadrille (1958); Gunman's Walk (1957); Damn Yankees (1958); They Came to Cordura (1959); That Kind of Woman (1959); The Pleasure of His Company (1960); The Golden Arrow (1964); Operation Bikini (1963); Ride the Wild Surf (1964); Troubled Waters (1964); City Under the Sea (1965); The Loved One (1965); Birds Do It (1966); Hostile Guns (1967); Judge Roy Bean (1972); The Timber Tramps (1973); Grease II (1982); Pandemonium (1982); Polyester (1982); Lust in the Dust (1985); Cameron's Closet (1987); Grotesque (1988); Out of the Dark (1988); Dark Horse (1992).


Buy Tab Hunter Movies - Choice picks


DAMN YANKEES
One of the best Musicals, good actors, songs, and story.


THE BURNING HILLS
1956 Western starring Natalie Wood and Tab Hunter


OPERATION BIKINI
This is a nicely done 60's war movie with a great cast that includes Frankie Avalon, Tab Hunter and Jim Backus
More Tab Hunter Movies at Amazon.com
VHS DVD
If a movie is out of stock, look for the "used & new" link.
New: Retro Shopping
Send an E-card
More Boomers Pinups web pages



Fun Fads & Fashion from the Fifties
Pink lady jackets, Catseye Glasses & lots more.
Complete poodle outfits, or a la carte

Retro Bowling Shirts



Classic Memorabilia


Beautiful selection of cd, digital and mp3 jukboxes at
Dazadi.com

Other links: Celebrity Link CelebStuck Celebsitezone.us Starpages.net Topcelebritypages.com menCelebs.com
Pictures are restored work products by Boomers Pinups - NOT FOR USE ON OTHER WEB PAGES
Pictures from Carolyn's saved 1950s teen scrapbooks
Copyright © Carolyn Passalaqua ALL RIGHTS RESERVED
boomers-fifties-pinups.com