On the go, fast and 1950s cool!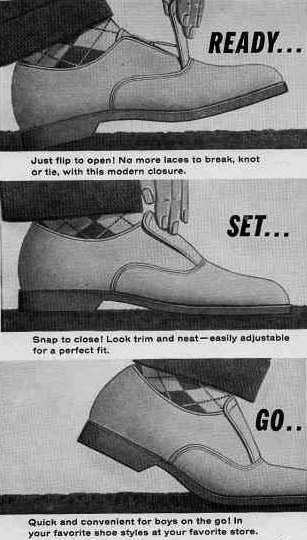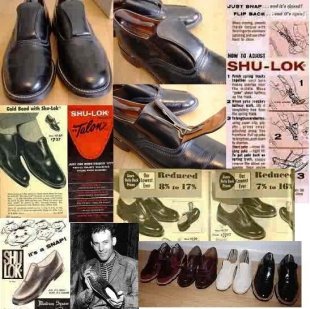 Shu-lok, flag flyers, zip, it's a snap - by Talon (the zipper company)
I remember an old pair of flapjacks sitting in our wash porch, the hinges were rusting. They must have been uncomfortable because I can't remember either of my brothers actually wearing them. Do you have comments about flapjacks or snap jacks?
Email cpcarolyn@boomers-fifties-pinups.com

Yeah, around about 1957-58 everybody that was cool hadda have Thom McAnn Snap Jacks (I lived in Wethersfield, near Hartford, CT.). They got tons of airtime advertizing, over Radio WINS in NYC that we all tuned into: Allen Freed and Murray the K. They'd never pitch something un-cool. Some of the lines in the Jingle were: "The cats will flip and the chicks will too ..... No strings attached to any pair; no strings attached because ... That's Square!"
They were all-purpose wear. But so were most shoes (boys', anyway). Remember (most people can't even imagine), these were before the days of "running" or "athletic" shoes (Reeboks, Nikeys, etc.). I remember caddying in the same Snap Jacks (which were heavy leather clunky dress shoes with smooth soles) that I wore the night before to Record Hops.
Their contemporary footwear competition: white canvas "tennies" (often worn with narrowly fitted, 5-button "Frankie Avalon" suits), Pat Boone White Bucks, and if you had yuppie aspirations, Clark's Desert Boots ("Desert Packs"). And of course, penny loafers (as long as they were genuine Bass Weejuns).



-Joe Rution (Santa Barbara)
I had a pair in my teens and they were very comfortable. In my small town school I guess I was the fashion setter because weeks after I appeared with these), other guys were sporting the same type of shoe. However I did not know until many years later that they were available in white buck, two tone, etc.
'Shu lok' shoes was a patent of the Talon company –(zippers).
A couple of years ago I bought a pair from Japan that are black and white. They do not have the traditional metal sliding closure but feature a snap that attaches the tongue to the closed shoe. Loved them and wish I could find some more.
-Bill Busse