Fifties drive-in pictures, Burge's carhop 1950's photos
Boomers Fifties Teen Idol Magazine © Boomers Pinups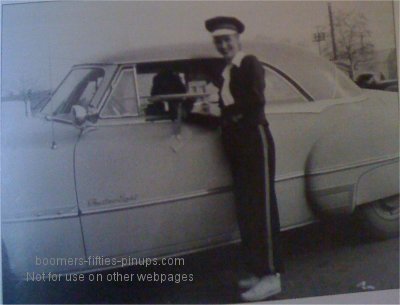 Burge's Drive-in carhop remembers the old days
By FRED SCHWARTZ (The Modesto Bee)
They came by the thousands, driving customized hot rods with loud mufflers, fancy convertibles, pickup trucks or dad's four-door sedan. They came to show off their polished Chevys and Fords, but mostly they came to impress their dates back in those innocent days from the late 1940s through the 50s and mid 60s. That's how former carhop Geraldine (Gerry) Ramirez remembers the teenagers who converged on Burge's Drive-in at Ninth and O Streets in downtown Modesto. Ramirez worked at Burge's from the day it opened in the summer of 1947.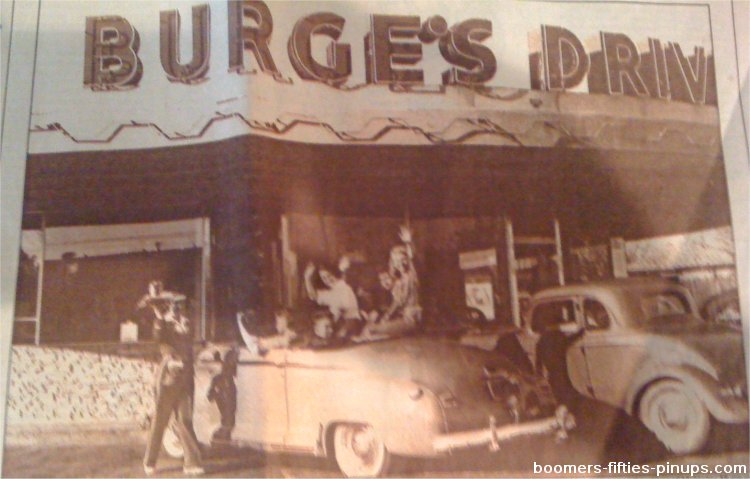 Geraldine (Gerry) Ramirez (pictured at left) served carloads of customers at Burge's Drive-in from its opening in 1947 until the day it closed in 1967.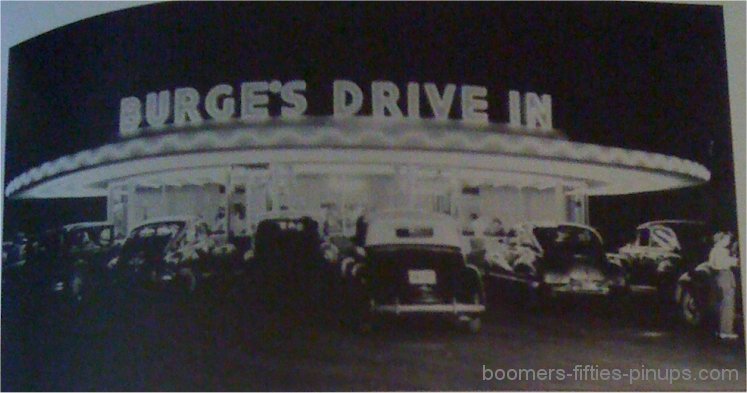 BURGE'S DRIVE-IN, 1950s - The inspiration for Mel's Drive-In of American Graffiti movie
It was a great place to hang out. One description of Burge's Drive-In, located at the corner of Ninth and O Streets, tells the story of how there was not enough room to park all the cars in a row, so they would park behind each other. When the first car wanted to leave, the drivers of the other cars would amiably move out of the way and then pull back in—talk about a simpler time. The carhops knew all the teens and others who showed up for the burgers and soft drinks and knew what they liked. Inside, patrons could sit at a table where they could pick out their favorite tunes on the jukebox. Burge's was Modesto's little touch of heaven for the better part of two decades.
(J. Broome, Camera Center Collection)

Pictures submitted by: Tony Ramirez, Proprietor: Stogies, 18202 Main St., Town/State: Jamestown, California 95327

Were you there? Were you in Modesto? Were you at Burge's Drive-in? Do you remember? Send Your Comments to:
Email cpcarolyn@boomers-fifties-pinups.com

OH MY GOSH... I REMEMBER GOING THERE WITH MY MOM... WHEN I WAS REALLY LITTLE
Cyndi (Modesto, CA)
Burge's used to make great tasting homemade pies, and they would sit them on the outside counter, tempting you to run off with one. We would buy and eat a whole pie sometimes. Burge's had some of the best burgers around, and the milkshakes were good. It was a meeting place for kids in all the surrounding areas. Burge's was the focal point. You would start at Burge's, cruise down 10th Street past the Greyhound building, then turn around and go back 10th Street to Burge's. Then, in the late Fifties, you would cruise down 10th and up 11th and back to Burge's Drive-In (in a circle). If you wanted to know where there was a party go to Burge's to find out. There was the Pete and Mike Dance Hour set up at Burge's. Mics were set up with a direct line to K5 Radio Station. They played songs; you could request songs and dedicate songs. It was the kind of place guys liked. Guys liked it because there were lots of girls around. Those were the good ol' Bad Days.
Tom Passalaqua (Class of 1955)
Ceres, CA

I remember the banana split had 3 different colors of whip cream on it – in pastel colors.
Ruby Willis Vilmur (1950's)
Ceres, CA
PHOTOS FOR EDUCATIONAL AND HISTORICAL PURPOSES ONLY
PEOPLE PICTURED DO NOT GIVE PERMISSION TO HAVE IMAGE POSTED ON OTHER WEB PAGES
PICTURES NOT FOR USE ON OTHER WEB PAGES
Copyright © Carolyn Passalaqua ALL RIGHTS RESERVED
boomers-fifties-pinups.com