Tuesday Weld picture from this 1950s teens saved scrapbook, restored by
Boomers Pinups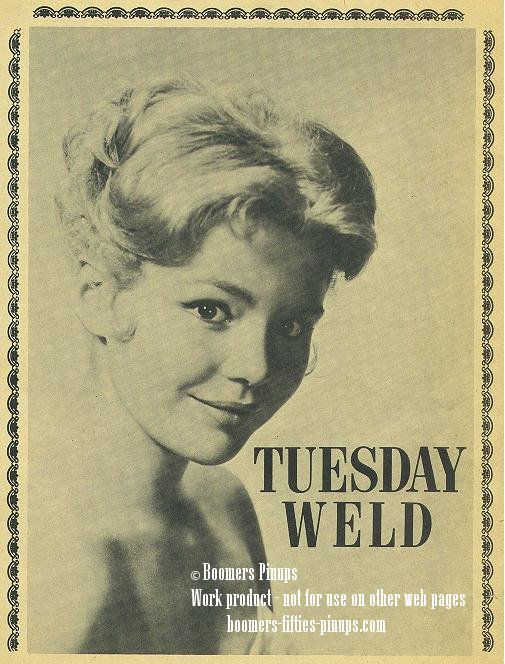 Tuesday Weld: Actress, TV star, Movie star, Celebrity.

Critics and fans like her performances on tv, and in the movies. Writers want to write about her and fans want to read about her--What is Tuesday wearing?, Who is Tuesday dating? How to be a beatnik, Tuesday Weld style!

Tuesday Weld becomes one of the most popular celebrities between about 1959 and 1962. She is an actress that people are interested in, people want to read about Tuesday Weld. Teen boys choose her as their pinup girl. Teen girls want to look, dress and talk like her. Parents / adults (amid her sometimes "wild" image) feel they see a kindness in her. No wonder the teen magazines are covered with photographs and stories of Tuesday Weld. And, at the core, it is Tuesday Weld's "talent for acting" that is admired and recognized by tv watchers and movie goers.
---
A restored work product by Boomers Pinups - NOT FOR USE ON OTHER WEB PAGES
Tuesday Weld picture from era scrapbook of 1950's teen Carolyn.
Copyright © Carolyn Passalaqua ALL RIGHTS RESERVED
Use your "BACK" button to return