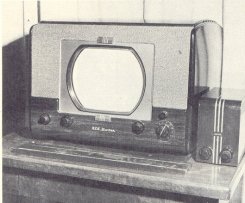 An Early RCA TV Model
The 1939 World's Fair tuned us toward the intrigue of television. In 1939 RCA had two TV sets with sound available - a 9 inch and a 12 inch screen. The price ran about 600 dollars. There were not many TV shows and not many people owned a TV set. At the end of 1947 there were 12 TV stations, that's the year that Howdy Doody premiered. In 1948/1949 there were some big shows such as The Lone Ranger, The Milton Berle Show, Kukla, Fran and Ollie and Arthur Godfrey's Talent Scouts. By the early Fifties there were more shows on TV. And there were more television set brands available for purchase. There was RCA, Philco, Teletone, Hoffman, Andrea, Crosley, Westinghouse, National, Dumont, Bendix, Capehart-Farnsworth and more - about 100 different brands.
1957-1958 TV Prices: 14 inch portable TV $129; 21 inch color TV Console $750.
| | |
| --- | --- |
| 1939 Andrea TV | 1949 Teletone TV |
Early 50's Hoffman TV


GE 1955 TVs
21 inch and 24 inch


1955 GE Portable TVs
Built-in antenna - Clock TV
| | |
| --- | --- |
| 1957-58 RCA Television Set | 1957-58 RCA TV Set |
| | |
| --- | --- |
| 1957-58 RCA TV Set | 1959 Philco Television |

Late 1950's Admiral Television
21" TableTV
Matching base with Lazy Susan swivel.

Late 1950's Admiral TV Set
TV-Radio-Phono with Remote Control.

1953 Motorola Television set
Submitted by:
Comment:This TV cost $40 last year and is in the process of being overhauled back to working condition

1953 Motorola TV set
Submitted by: Mason Coplin
Comment: Picked this up from a garage sale for $10. My oldest son and I are converting it into a fish tank. That way it will always be in HD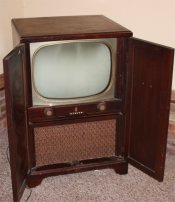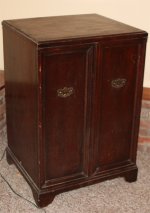 50's Zenith Television set in cabinet
Submitted by: Harrison Wilde
Comment: 17 inch TV, the cabinet is 25 1/2 wide, 23 inches deep, stands 38 inches high and in good shape, after all these years I have never tried to turn it on. How I got it, I was hired a few years ago to clean out this old house after the resident who was 89 went to a nursing home.(he was born and lived in this house all his life) The TV was in the living room, we loaded it for the dump but decided to keep it, thought it looked neat in our front room, now we need the room...planning to sell it. I think this is a nice piece of television history as far how the living room changed when television became popular...imagine only one TV and everyone gathered in front of it to watch those great black and white shows, even have the neighbors come over to watch it...When done with it close the front doors and it is a piece of furniture.
Got any photos from the 1950's showing your early TV Set? Got any photos from the 1950's showing a TV Set typical of the Fifties? To share your photos on this website email them to cpcarolyn@boomers-fifties-pinups.com
If you want include a caption; or your name, State and approximate date of picture.
Television links: Fifties TV & Celebrities Early Television & World's Fair RCA TV at The World's Fair 1939 Television broadcast photos Early Television History Hoffman TV History Vintage TV Sets Book: The Tube of Plenty
---
Copyright © ALL RIGHTS RESERVED

NOTE: MATERIALS ON THIS PAGE ARE THE OWNERSHIP OF THE AUTHOR AND NOT FOR USE ON OTHER WEBSITES WITHOUT PERMISSION.
boomers-fifties-pinups.com