Pillow Talk Boomers Pinups

In 1959 Doris Day and Rock Hudson pair up for the first time in the romantic comedy, Pillow Talk. Pillow Talk is a big hit with movie goers, and one of the highest grossing movies of 1959.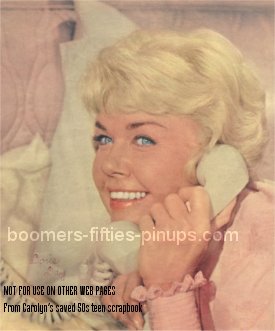 Movie: Pillow Talk
Doris Day as Jane Morrow
Interior Decorator..She needs to use her phone for business bookings...trouble is it's a party line, and he's always talking on it.

Pillow Talk. The co-stars for the movie, Tony Randall and Thelma Ritter. Both give good comedy performances and add to the fun of the movie.
---

She wants him off of her party line.
But does she want HIM?

Rock Hudson as Brad Allen
Song writer, womanizer and lots of trouble.
He is on her party line all the time, with all his girlfriends.
But he wants HER.
Doris Day and Rock Hudson are the stars of the movie.
Lots of romance, sexual tension, tall tales, mishaps....providing lots of humorous situations. A good-time movie for the audience.
---
Use you BACK button to return